BeauGen Breast Pump Cushions - 4 Pairs (fits flanges 21-28m)
Regular price
$88.00 USD
Sale price
$79.00 USD
Unit price
per
Sale
Sold out
Save Big with a 4-Pair Pack of BeauGen Breast Pump Cushions:
The pump, the tubing, the flanges, the cooler, the storage baggies, it all adds up. We want to help make pumping a bit more affordable and are offering savings on our largest orders of BeauGen Breast Pump Cushions. You can now save even more when you order four pairs of a cushions at a time. That's eight individual cushions.
Additional benefits to ordering the four pair pack is cutting down on the number of orders you have to place, eliminating the dread of running out cushions, and always having another pair on hand if something happens...say during an MOTN pump...
Product Details: Contains 4 Pairs (or eight total) of Cushions
Soft

 and 

slightly tacky

 

to allow for a good seal with flange.

Clear for easy nipple alignment.

Compatible with most breast pump brands and accessories on the market, including:

Spectra, Medela, Willow, Elvie, BabyBuddha, Lansinoh, Hygeia, and Evenflo, and more.

Made of FDA-compliant, BPA-free, latex-free and food-safe stretchy plastic.
Made in the USA.
100% recyclable 

*Subject to recycling number 07.

Avoid sterilizing cushions or using any source of high heat for cleaning. Wash with warm water and gentle soap.


Replace your cushions every 2-8 weeks, depending on the frequency and duration of each pumping session.

Collection bottles and flanges not included.

PATENT PENDING
Cushion Sizing Information:

Compatible with flange sizes 21-28mm.
Cushion reduces the approximate diameter of your breast pump flange by 2mm.
You may need to size up to accommodate (for example, if you currently use 24mm, you may need to size up to 27mm to accommodate the cushion).

Need a different size?

 
Share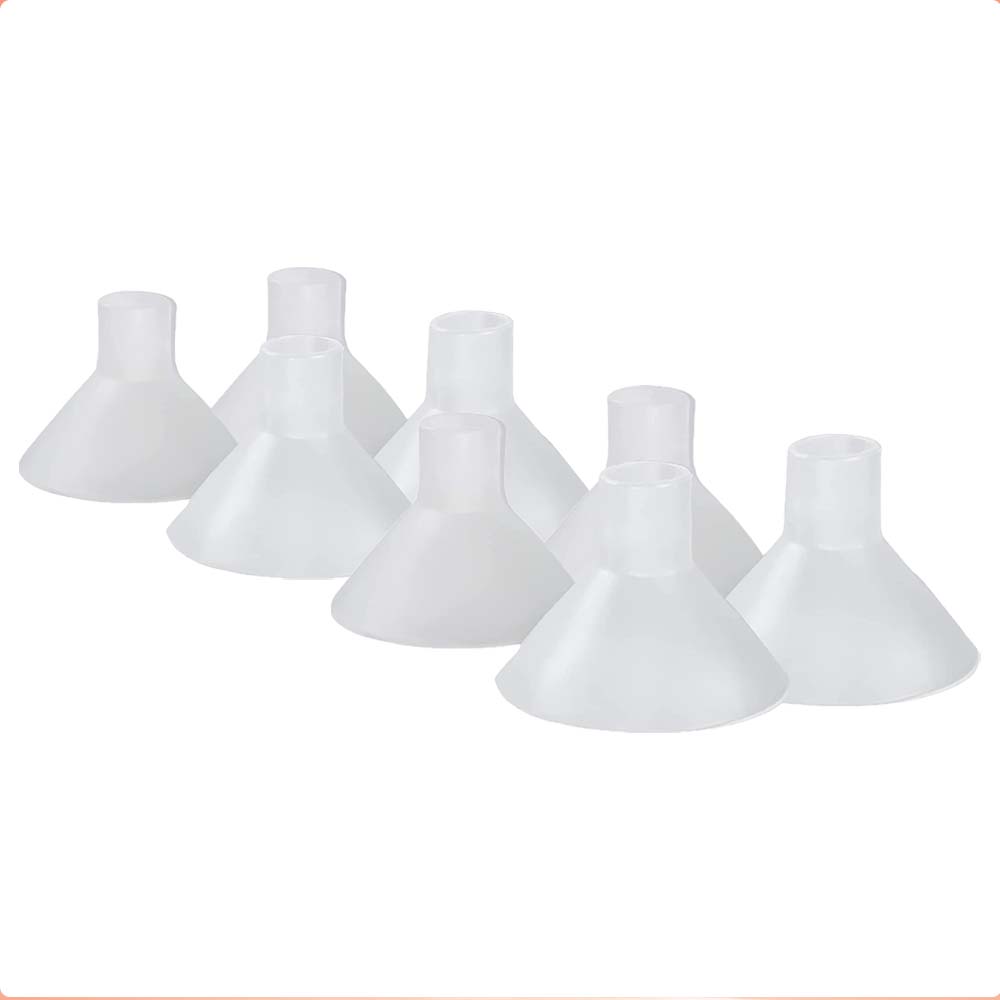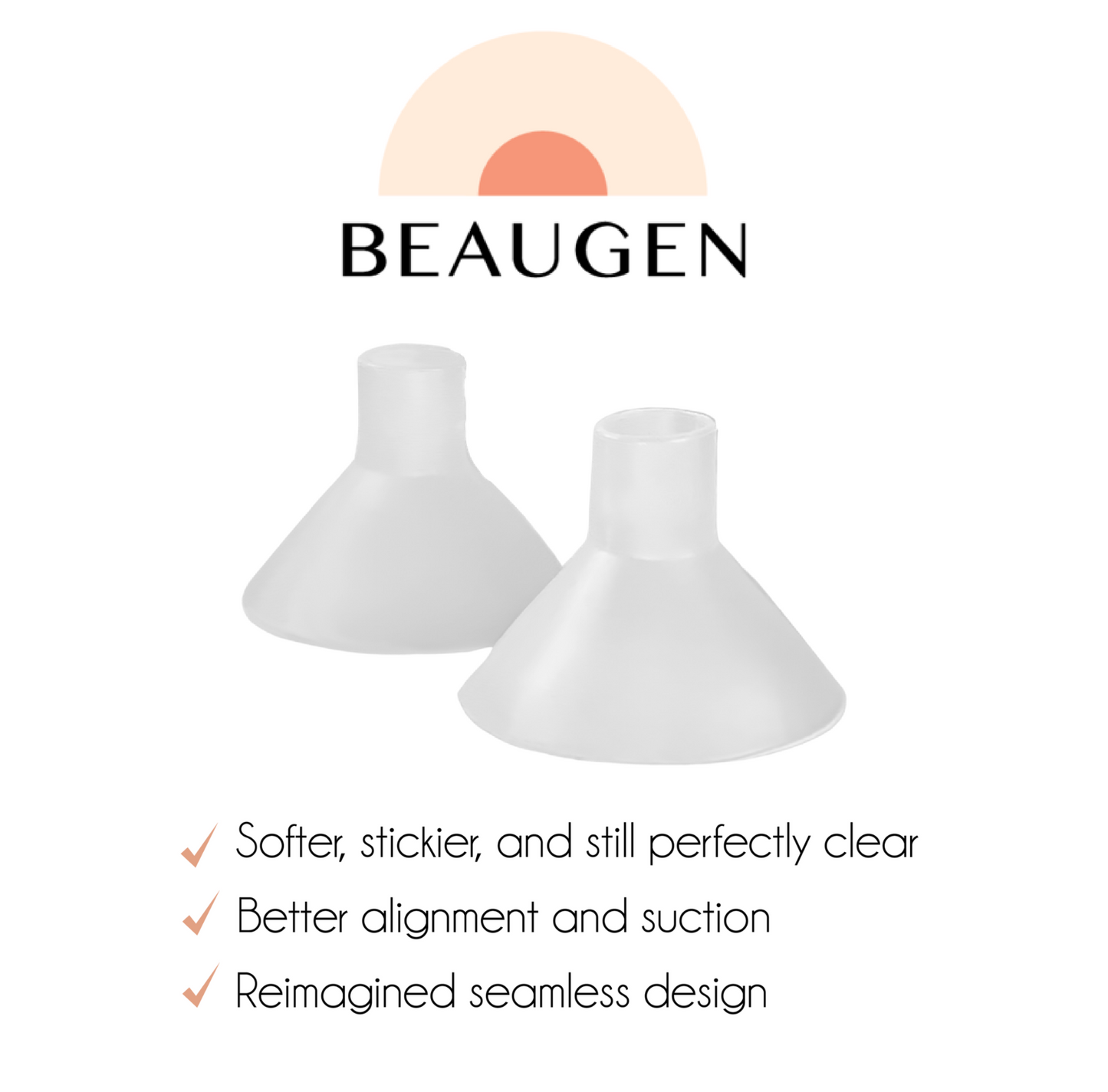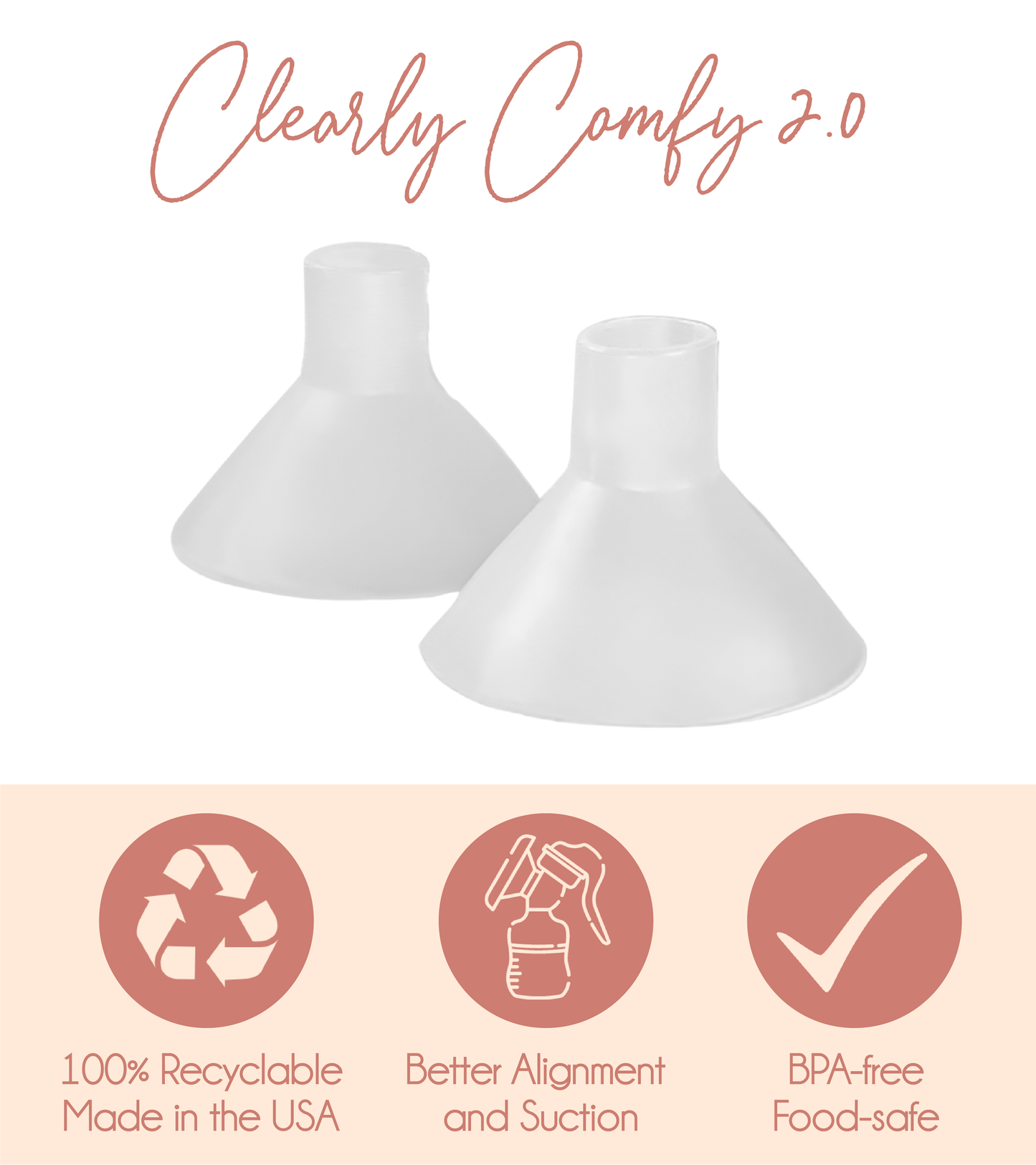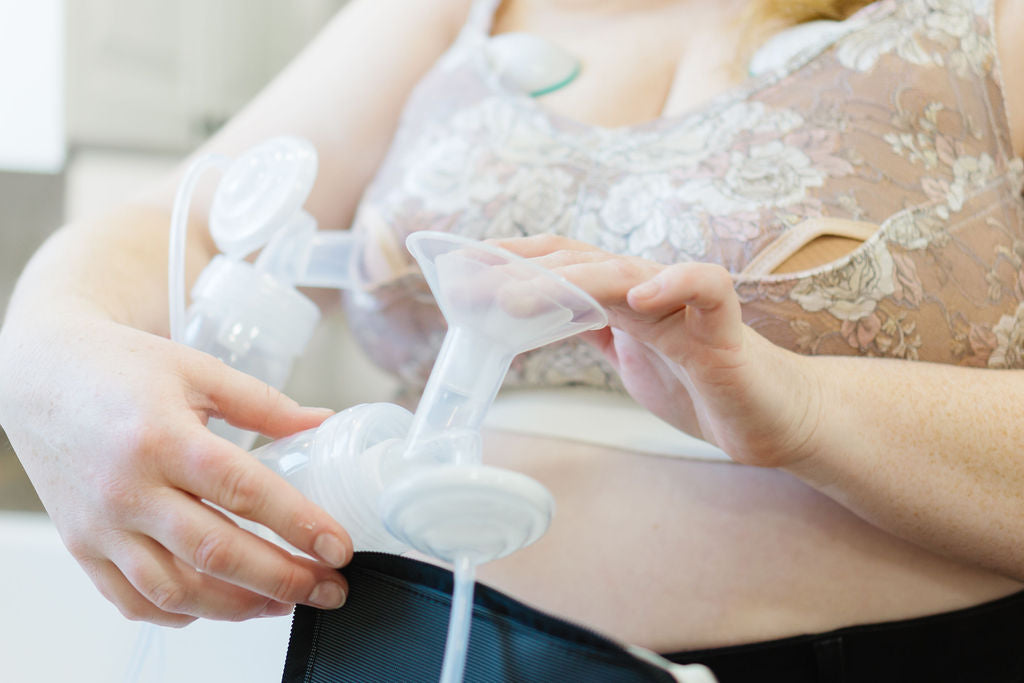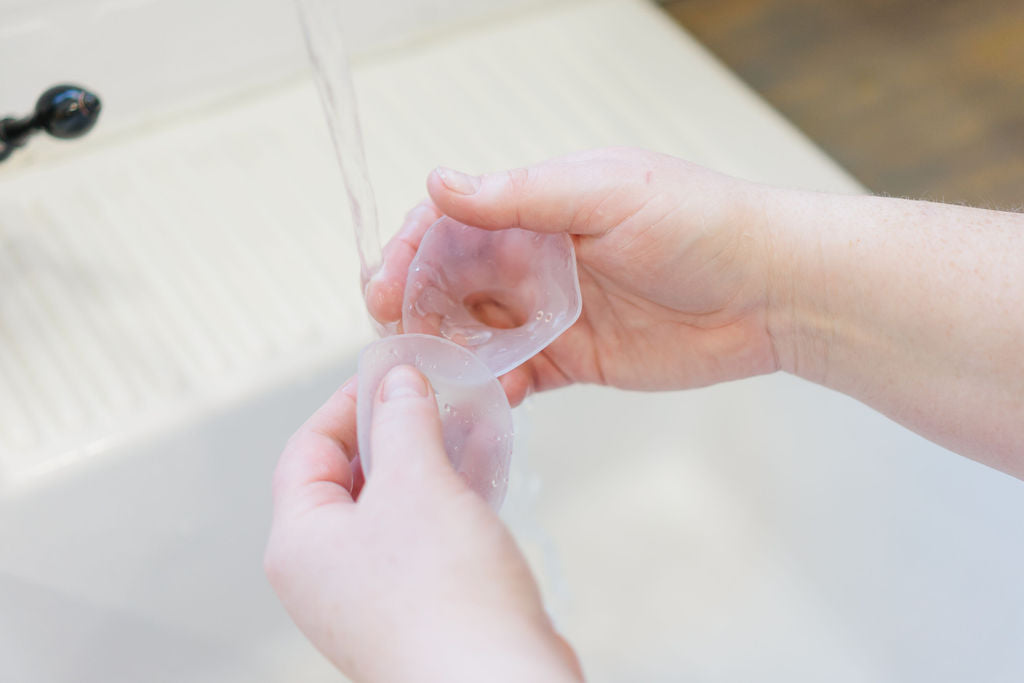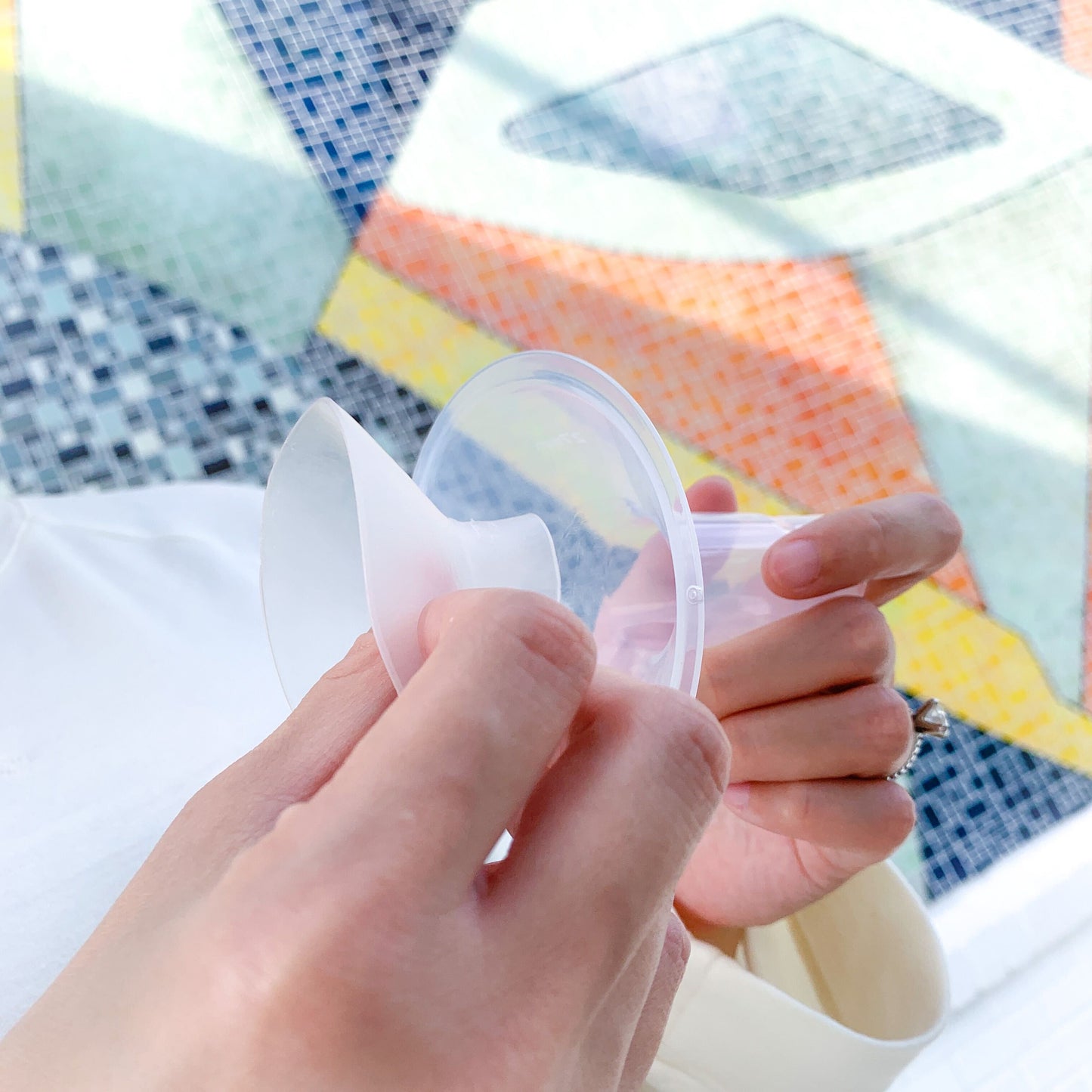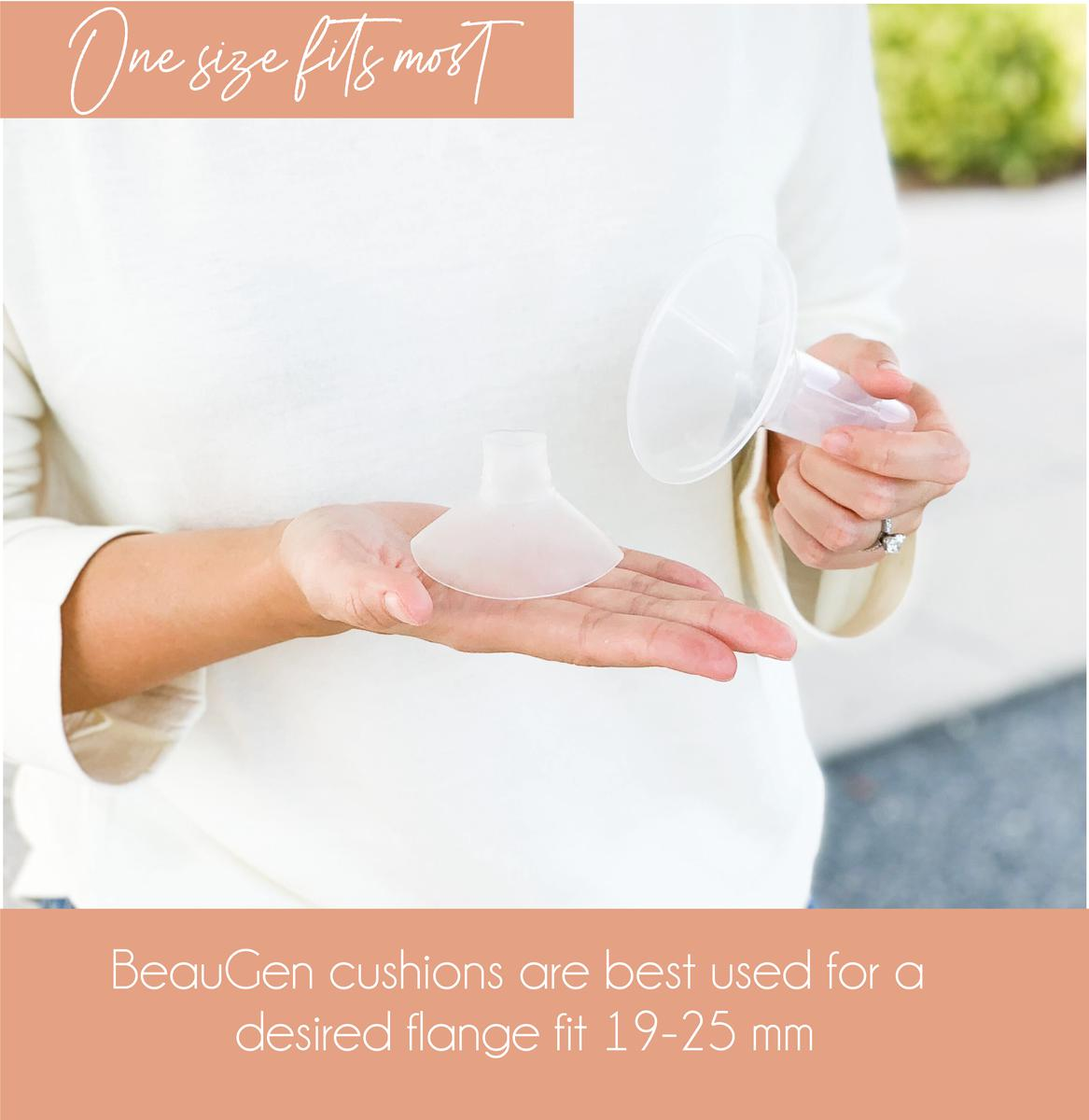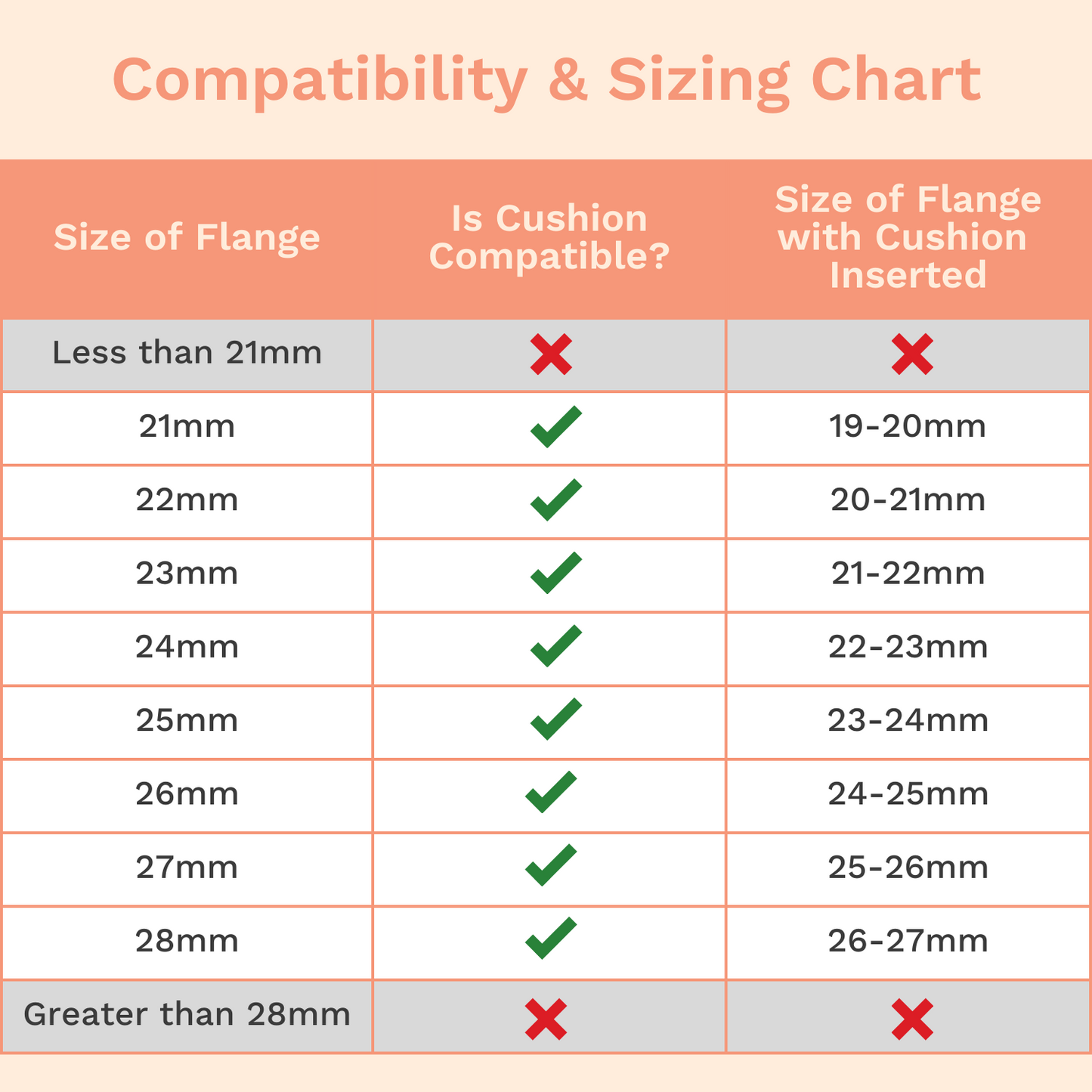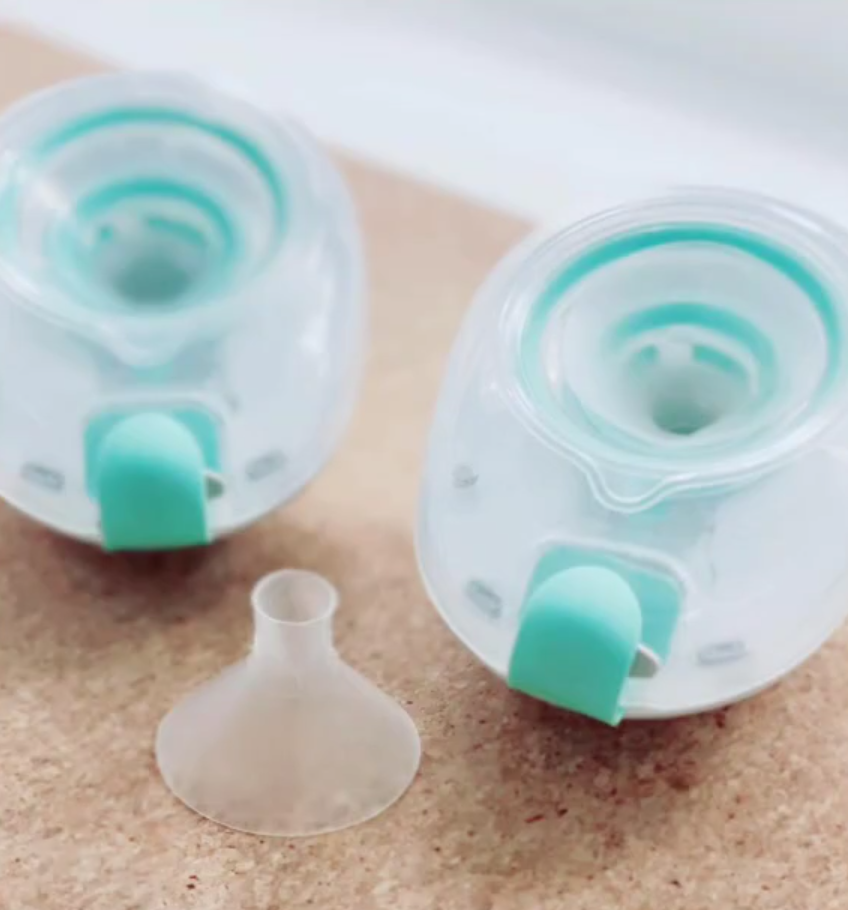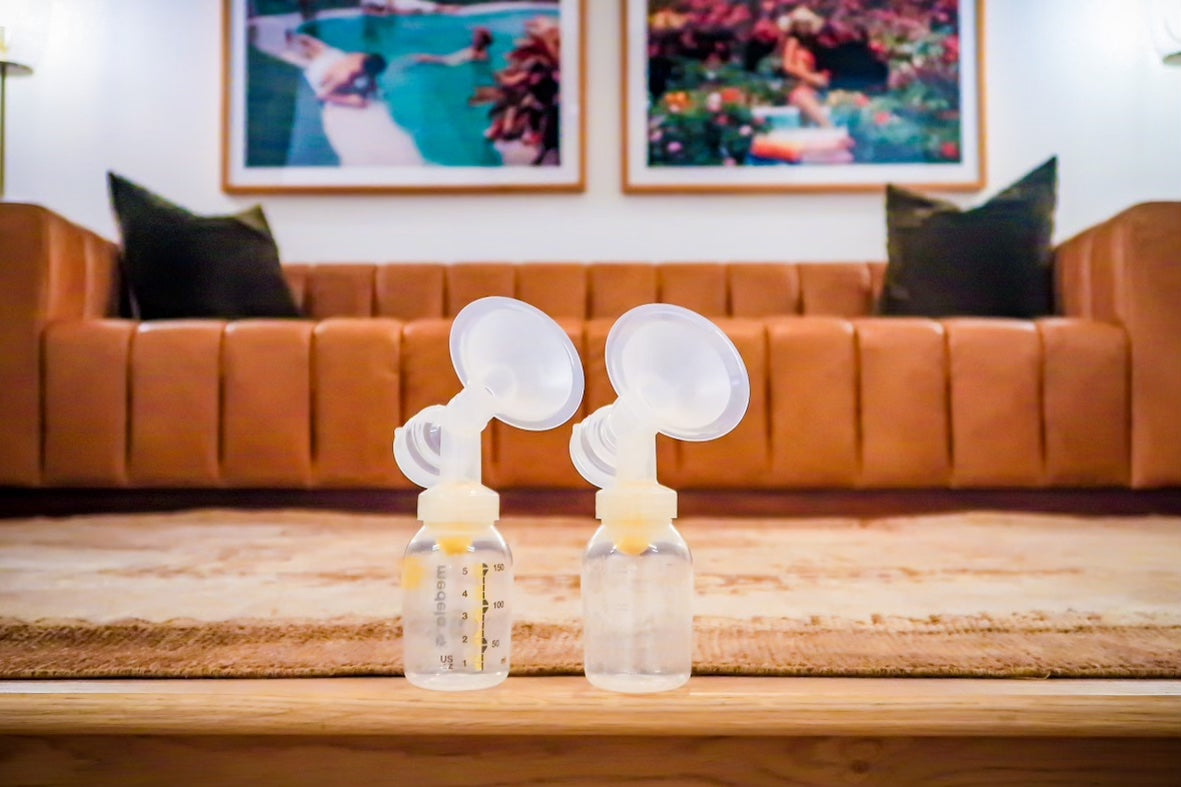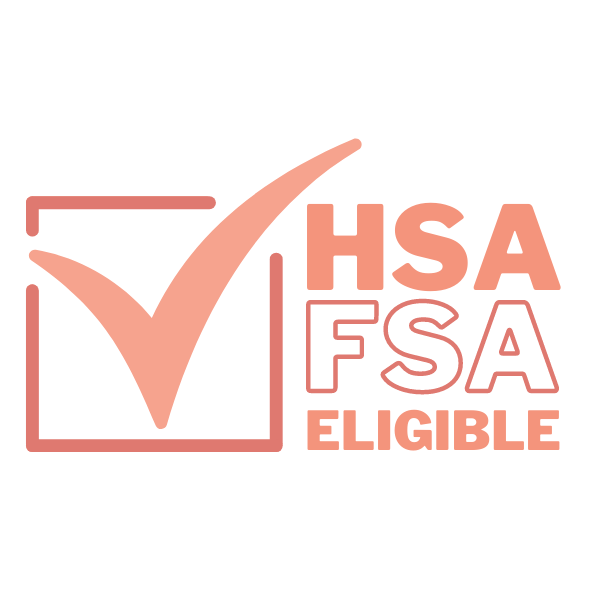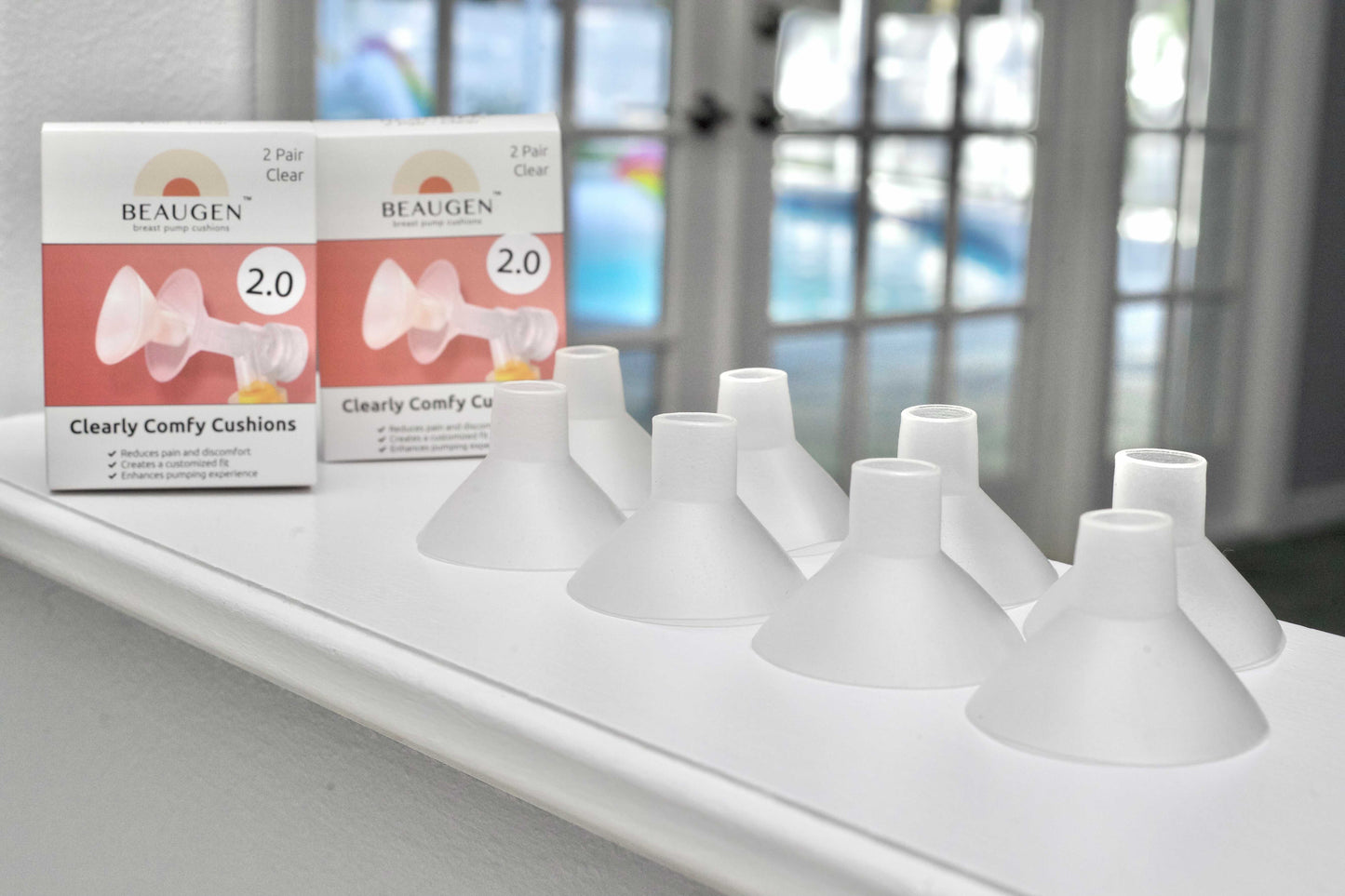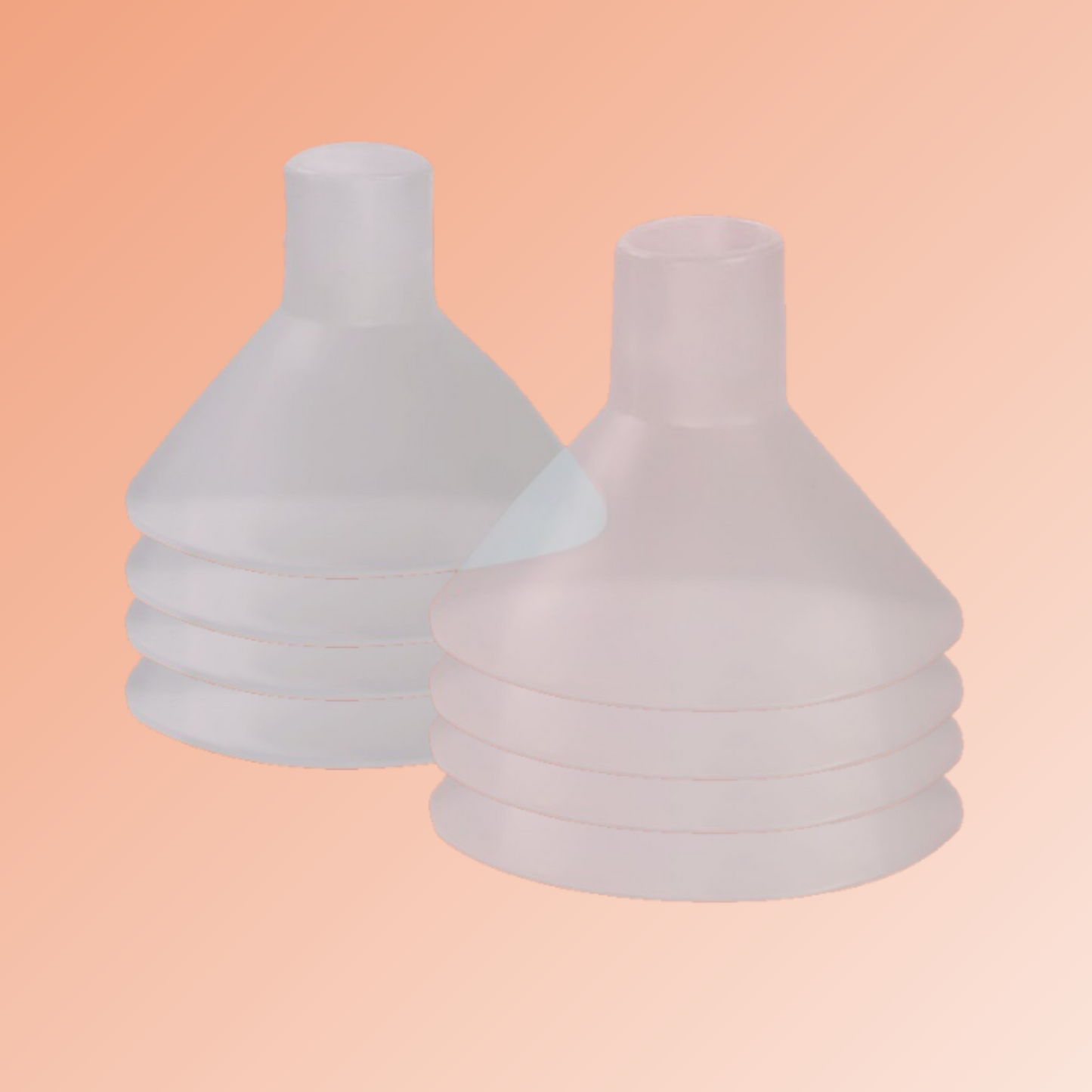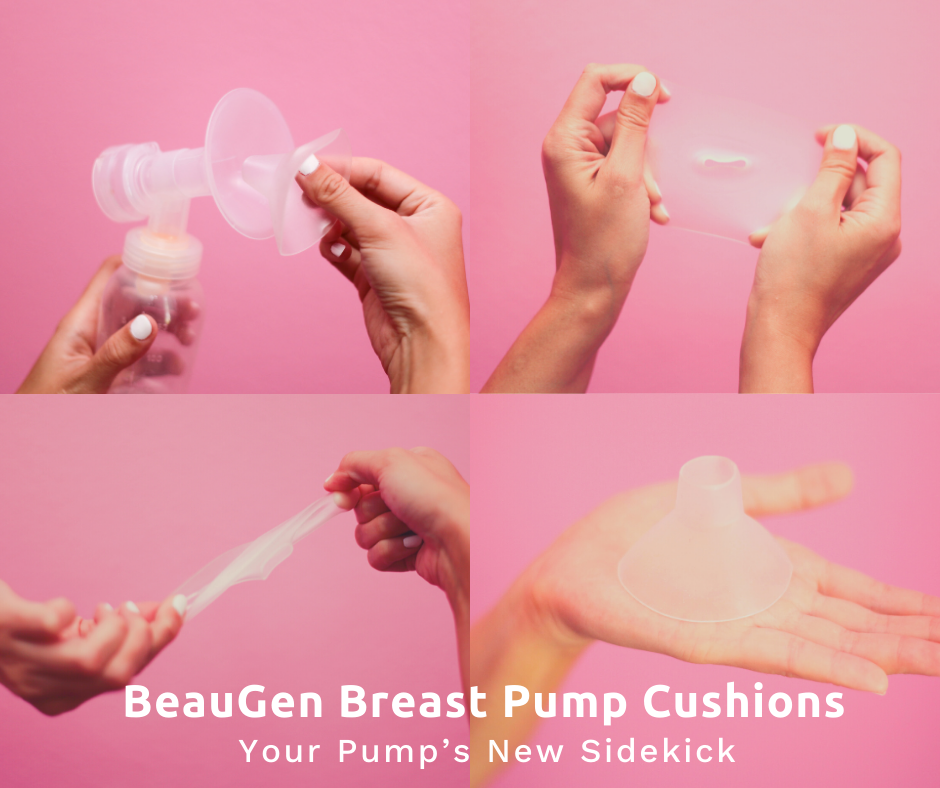 BEST EVER
My favorite inserts after the MANY others I tried before finding BeauGen! I use with the spectra pump and the Willow pump! At first I didn't understand how to get them in my flanges correctly, but they offer so many useful tools to help you make it the perfect fit. I recommend these 100%! (I lube up the flange with nipple balm or coconut oil and push until perfect fit, and I also have ran flange and cushion under running water and pushed until perfect fit!) LOVE THESE!
We're so happy that you're happy with BeauGen cushions! Thanks for sharing your PRO tips!
Use with Elvie
I'm a lactation consultant & my daughter (& other clients) have successful used the Beugen cushions with her Elvie pump for 3 yrs. ( 2nd baby now) we just trim the stem part a little shorter & it works fine. More comfortable & she gets more milk. She uses them with 21 mm flanges. We both love them. Thank you💕
Thank you so much for your positive review, we are so happy to hear the successes you've encountered with BeauGen cushions with your daughter and clients! While we do not recommend trimming the cushions because it can promote quicker degrading of the cushion material, to accommodate the shorter Elvie tunnel, we know many Elvie users will fold the cushions 'aka turtleneck the tunnel' . Thank you for staying pumped for BeauGen!
Suggestion for future
Very good for elastic nipples. However, I suggest that you come up with a cushion which are compatible with elvie or other handsfree pumps. Many moms are using the latest handsfree pumps, it would be helpful to buy the cushions that are compatible with these pumps. I suggest making the cushion stems shorter. That way consumers won't have to cut or fold them to fit in their pump. Cutting is not recommended and folding needs re-calculation of flange size. If you sell both the regular length cushions and modified cushions, it would be very helpful to us moms who already have many things to worry about. Please consider this. I have elvie and I would love to use it without modifying the product. Because these really work!
Hi!
This is great advice, thank you for sharing your experience and your feedback! We're happy to know the cushions are working well for your elastic nipples. Creating different sizes and shorter cushions is on our radar but, with the cost of everything increasing, we don't currently have a timeline just yet. But, stay tuned! :)
Game changer
I pumped an extra half ounce . Comfortable . Easy to use . Pricey but your nips are worth it !
I've used them with my Elvie stride and my imani
This is awesome! So happy to hear the cushions have increase your milk output and provided the comfort your pumping journey so much deserves. If you join our VIP subscription, you can save on your cushion purchases :)
My Breast Friend!
I never knew elastic nipples were a thing until I had my little girl. I was desperate for help for my poor nipples. The pain was unbearable when pumping, and it almost made me give up pumping all together. However, Beaugen has been a God send! I can now exclusively pump for my little one and have zero pain at all! My nipples and my sanity thank you for these amazing breast shields/ cushions!
Hali, we're glad you considered trying BeauGen breast pump cushions and we are so thrilled that they worked for you! You got this mama!